Carly Morrissey, Queensland Times
December 6, 2018 12:58pm
SINCE its development 25 years ago Springfield has been growing at a rapid rate. Now home to one of Queensland's fastest growing suburbs - Spring Mountain with capital growth of 103.6 per cent - the population is expected to grow by 6 per cent a year for the next 20 years.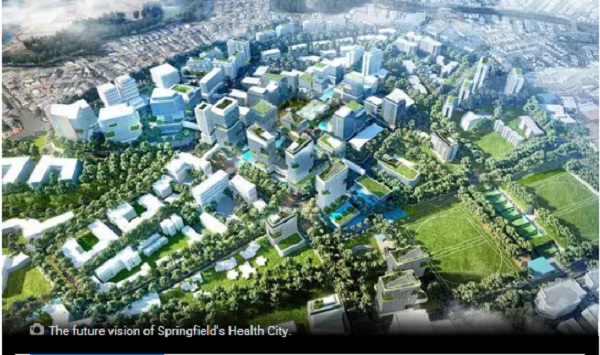 Spring Mountain at Greater Springfield is the fastest growing suburb in the Ipswich Region and the state's second best performing suburb. New research shows that Springfield Central is positioned to be the work, study and services hub of a catchment of 350,000 people by 2036. And once complete, Springfield Central's 360ha heart will be twice the size of Brisbane's CBD.

Here's what developers are bringing to Springfield.

1. Extension to Springfield Fair
Developers have applied to extend Springfield Fair and add another 476m2 of gross floor area. The centre currently is home to a Coles and 17 retail outlets.

2. Shops, childcare centre, retail warehouse, restaurant and medical centre at Springfield Lakes.
Developers want to extend the Spring Lake Metro Centre. A material change of use for a 76 child capacity child care centre, and shop, restaurant, medical centre, fast food premises, commercial premise and or vet clinic and motel extension has been submitted to the council. The extension will increase the centre's floor area by 2370m2. Currently the area is home to a tavern, McDonald's and 23 retail shops.

3. Idea City
Land bordering Sinnathamby Blve, Sportstar Drv and Spring Mountain Blvd has been cleared for Springfield City Group's future vision for Idea City. The IDEA City precinct is designed to engage and encourage innovation, design, entrepreneurship, and art. While Idea City will maintain a strong research focus to commercialise innovation in partnership with government and business - particularly focused on the physical-digital fusion that is happening between old and new sectors of the economy.

4. Health City
THE future vision for Springfield's Health City includes another university, a living lab and more public hospital places. International design firm Broadway Malyan won the chance to design the 52ha site. Springfield City Group has taken the plans to Melbourne and Sydney as SCG looks Australia-wide and internationally for investment partners to make the design a reality. There's bikes for hire, an expanded Mater Hospital with a mental hospital, medical research facilities, a technology centre and more. The Mater has approval to expand to 1200 beds and Aveo has approval for 2500 units.

5. Fast food, office space and retail warehouse
An application to undertake road works stormwater, drainage work, earthworks and signage has been submitted for a site at 11-17 Commercial Drive Springfield. If approved the works will mark the start of the development of a fast food premises, professional office and retail warehouse which was approved by the council in January. The development is for a drive through fast food premises and offices or retail warehouse tenancy on a 4,609m2 parcel of land.

6. District Park
Lendlease is looking to create a district park at Spring Mountain. The proposed development is over 152ha of vacant land located at 7001 Sinnathamby Boulevard, 7001 and 7003 Grande Avenue, Spring Mountain.

7. Keema car dealership
THE first of three Keema Group dealerships in Springfield is currently under construction. The dealership was originally thought to sell luxury cars, but plans lodged with Ipswich City Council showed Hyundai branding back in May. Keema is building the dealership on the corner of Augusta Parkway and Technology Drive, just past McDonalds. The plans for the large modern showroom in Augustine Heights were first approved in August last year.

8. $9.89 million school hall
HUTCHINSON Builders has been awarded the contract to build a $9.89 million multi-purpose hall at Springfield Central State High School. The hall is expected to be finished by 2020 and includes two basketball courts, a kinesiology laboratory, change rooms and amenities, as well as meeting rooms.
9. Masters plans
PLANS have now been revealed to turn the old Masters building into a retail warehouse with up to 10 business. The plans include a restaurant, medical centre, 24-hour gym, play centre and cafe, 122-place child care centre and local shops, including a chemist. Nationally, Home Consortium plans to re-purpose the former Masters stores into multi-tenant large format centres, with a focus on retail showroom and homemaker uses.
10. Springfield Lakes South Neighbourhood Centre
A NEW shopping centre, child care centre, car wash and service station is planned for a corner block on Grande Ave and Springfield Greenbank Arterial at Springfield Lakes.
11. Childcare centre
A CHILDCARE centre at Brookwater was given the green light in July. The centre will cater for up to 105 children and will operate from 7am-6pm weekdays at 22 Magnolia Drive.
12. Mega Playground
PLANS have been approved to build a million dollar, three-storey, mega playground. Development application material shows plans to build three trampolines, a large webbed climbing apparatus and two large, elevated slides. The three-storey playground will be built on Ipswich City Council-owned land at 130 Southern Cross Circuit.

https://www.couriermail.com.au/news/regional/parks-shops-restaurants-20-developments-coming-soon/news-story/b9943c2fcb3f0b4233bc1e579cc476ca