Brianna Walker February 5, 2021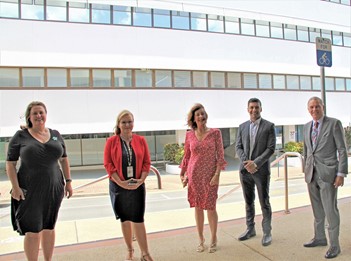 Mayor Teresa Harding, Ipswich MPs Jen Howard and Lance McCallum and West Moreton Health's CEO Dr Kerrie Freeman and Board Chair Michael Willis outside the sold council buildings
Ipswich City Council has sold four of its buildings and other land to West Moreton Health for $20.65 million in a move that is set to future proof the city.
A crucial step in the redevelopment of Ipswich Central, the sale of the South Street buildings and other properties paves the way for a dedicated health precinct in Ipswich that will help keep pace with the region's booming population.
Mayor Teresa Harding said it was an important milestone for the city as council brings jobs, growth and investment in to the heart of Ipswich. "I would like to thank the State Government and West Moreton Health for working closely with council on the sale," she said.