Darrell Giles February 26, 2021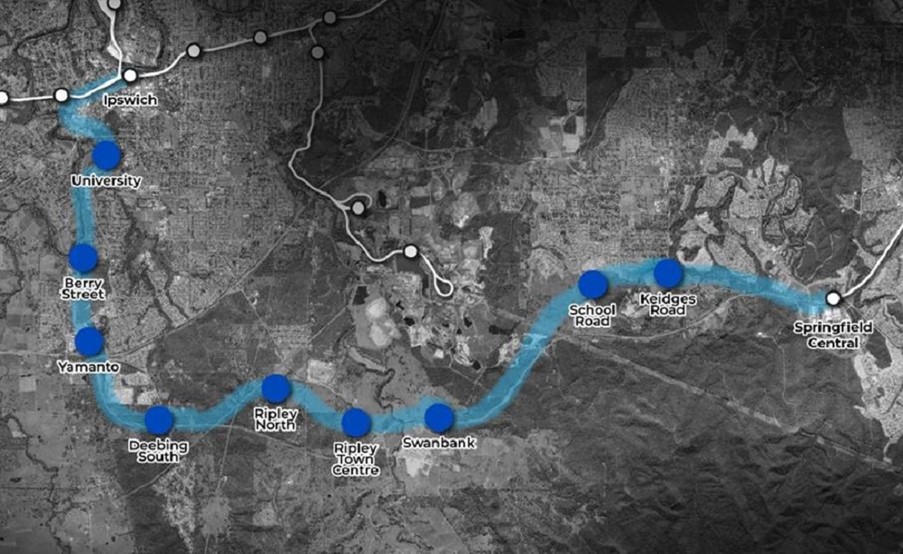 Proposed Ipswich-Springfield public transport corridor
Ipswich City Council's major project-of-the-future – the Ipswich to Springfield public transport corridor – and its waste management and recycling challenges strategy have been recognised by Infrastructure Australia.
Infrastructure Australia today (Fri 26 Feb) launched its 2021 Infrastructure Priority List – a comprehensive investment roadmap to support Australia's recovery from the COVID-19 pandemic, the 2019–20 bushfires and the recent and ongoing drought.
Two Ipswich projects were added to the list, providing an opportunity for strategic infrastructure investment: the proposed 25km public transport corridor known as I2S, and council's waste and recycling focus.
Mayor Teresa Harding said the listing represented an important step forward to support Ipswich's unprecedented population growth, following productive discussions between council and the State and Commonwealth Governments.
"Ipswich is the fastest-growing city in Queensland, and these Infrastructure Australia listings have recognised that significant investment will be necessary to maintain our residential amenity and keep our growing community connected to essential services and economic opportunities," she said.
"Our fastest growing communities between Ipswich, Ripley, Redbank Plains and Springfield will rapidly transform over the coming years and residents need to be connected to jobs, education and other public services," Mayor Harding said.
"If we do nothing, the local road network will fail by 2031 and it will cost the national economy more than $1 billion in productivity losses by 2036."
The I2S public transport corridor would include up to nine new rail stations between Ipswich Central and Springfield Central.
Mayor Harding said council and the community recognised I2S as the most significant project as it would benefit Ipswich as well as the broader south-east region, Queensland and the nation.
"Our city's population is projected to grow at four per cent per annum (from 230,000 now to over 500,000 by 2041). This compares to 1.6 per cent for Queensland and 1 per cent for Australia," she said.
"With approximately 70 per cent of the population growth in Ipswich occurring between Ipswich and Springfield, this public transport corridor is vital to easing the burden on our road network and keeping our community moving.
"This is nation building infrastructure. Locally, it will ensure the people of Ipswich keep our great lifestyle as the region grows and deliver jobs and vital services.
"There will be improved travel times, economic and employment opportunity along the corridor, diversified housing supply and reduced congestion."
She also welcomed the advance of the national waste and recycling management initiative. She said council was committed to working with Infrastructure Australia in relation to all regionally significant projects, including a second Bremer River crossing, which would dramatically cut congestion in the CBD and assist in bring business back to the city centre; plus defence manufacturing projects.
The Queensland Government's Cunningham Highway upgrade, taking in the Yamanto interchange to Ebenezer Creek, has remained a priority initiative. It will involve upgrades to a 4.75km section of the Cunningham Highway, including the Amberley interchange, with the government to complete its business case development.