THE DEAL THAT WILL CHANGE BRISBANE'S SKYLINE FOREVER
April 25, 2019
WORK will begin within weeks on building the multi-billion Queen's Wharf development set to transform the Brisbane cityscape.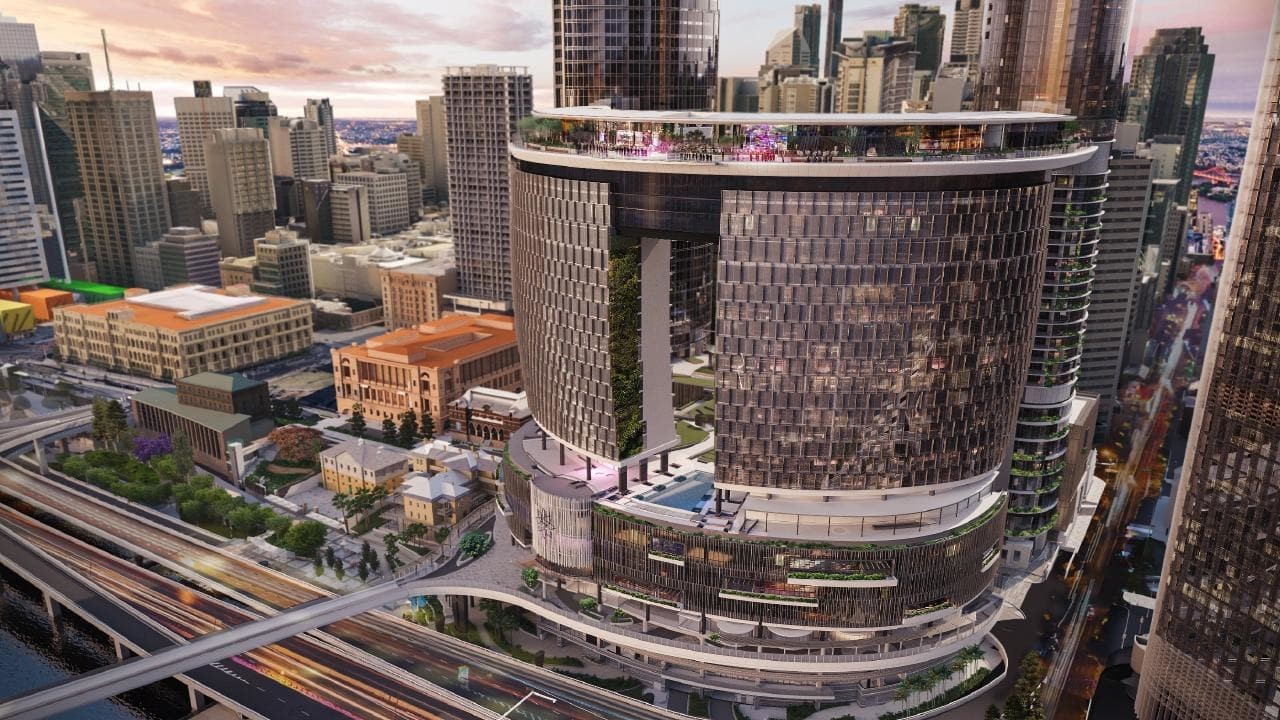 Australian-based global construction giant Multiplex has been awarded preferred contractor status for the major components of the $3.6 billion tourism precinct in the CBD.
It will include the main integrated casino resort building with its eye-catching arc-shaped facade overlooking the Brisbane River and the iconic 100m-high Sky Deck with 360-degree views of the city.
The contract also covers three high-rise towers to house luxury hotels, eventually providing more than 1000 rooms plus dining and retail facilities, and an apartment block.
"It's a massive contract that will include 370,000sq m of floor area and 105,000sq m of energy-efficient glazed facade.
Up to 2000 workers will be employed at the peak of construction. Once operational, the precinct will employ 8000 people.
Premier Annastacia Palaszczuk welcomed the "major milestone". "Our priority is jobs and this project provides thousands – in construction and in operating this city's changing development," she said. "And it flows through the entire economy with demand for goods and services for decades to come."

WORK BEGINS ON BRISBANE'S NEW INTERNATIONAL CRUISE TERMINAL
April 26, 2019
The $158 million project is scheduled to open in October next year, with the potential to more than double Brisbane's cruise industry.
The economic boost in welcoming more tourists and supplying bigger ships is estimated at more than a billion dollars over the next few years, on top of Queensland's already billion dollar industry.
"Building this one piece of infrastructure flows through our entire economy," the Premier said. "Ships that were too long, too high and too deep to dock at Brisbane's Hamilton facility will have a dedicated cruise terminal.
"That will stimulate the industry at ports up and down the Queensland coast, as we aim to increase passenger numbers throughout the state to more than a million a year."
Minister for State Development and Manufacturing Cameron Dick said the project was already delivering jobs. "The Brisbane International Cruise Terminal is supporting, on average, an estimated 245 jobs each year during construction, while an additional 49 jobs will be created each year over the next 20 years," Mr Dick said.
"Already the cruise sector supports more than 3,700 jobs state wide and we're committed to growing this industry."
Port of Brisbane CEO Roy Cummins said the new International Cruise Terminal will be a world-class facility. "Within its first five years the terminal is expected to handle over 1,100 vessel calls and around 1.8 million passengers," Mr Cummins said.
The proximity of Brisbane Airport gives the Brisbane International Cruise Terminal the edge in providing easy access.