TED TABET TUE 01 JUN 21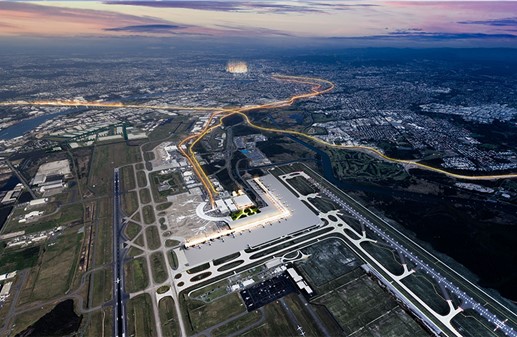 Brisbane Airport has unveiled plans to build a $1-billion third terminal that will connect its dual runways.
The proposed terminal will be a 250,000sq m integrated L-shaped building that services both domestic and international operations, positioned between the two runways.
Brisbane Airport Corporation (BAC) said the development would be marked for completion in 2032, however, the timeline would be moved forward if Brisbane was confirmed as the host of the 2032 Olympic Games.
"Brisbane Airport has been blessed with two great pieces of terminal architecture in the current domestic and international terminals," a Brisbane Airport Corporation (BAC) spokesperson said.

Brisbane, currently Australia's third-busiest airport spanning a 2700-hectare site, recently completed the construction of its $1.3-billion, 3.3km second runway.

The new runway has now given the airport the largest aviation capacity of any city in Australia, allowing for up to 110 aircraft movements per hour, comparable to major international hubs like Singapore Changi Airport and Hong Kong International Airport.

Brisbane Airport Corporation is also set to spend another $2 billion on major projects over the next five years.

"As we emerge from the pandemic, Brisbane Airport will be in the best position possible to attract new airlines and new routes, connecting Brisbane to the world more than ever before."

Along with a new northern integrated domestic and international terminal, BAC wants to connect the airport precincts together with a new Australian-first airport mass transit system.

As part of the Brisbane Airport 2020 masterplan, BAC is planning a mass transit system that could handle the forecasted 50 million passengers and 50,000 workers that will transit through the Airport precinct by 2040.